New York, New York Part II
Friends, I apologize for not getting these up sooner. But here they are for your viewing enjoyment.
NOTE: As I said before,
my
camera had some sort of malfunction. So most of the pics you see were taken by someone other than me.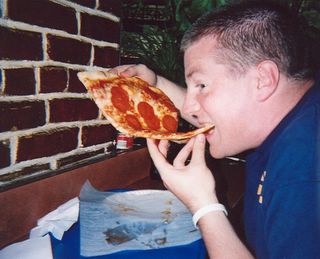 This picture still doesn't quite capture how big the NY slices of pizza are. That thing was like the size of my torso. Very good stuff, but let's not pretend like there's any competition between NY and Chicago pizza. It's not even close.
Look familiar? Legend has it that Jerry Seinfeld and Larry David met at this restaurant to discuss the possibility of the show. And if you listen closely enough, you can almost hear Seinfeld asking "What's the deal with corn nuts?"
My friend Matt and I in the right field bleachers before the Cubs-Yankees game. I've known Matt since we were in 2nd grade. Good things.
I like this picture because of how cool the sky looks. A summer Friday night, watching the Cubs and Yankees in New York City...perfect.
Greg took this picture from the Boncimino seats. It's cool to get a different view.
The House That Ruth Built.
Greg and I after the game. So great to see those guys!
That little dot...yeah that's me in Central Park. That place is amazing. I look bald in that picture.
Times Square....well a
part
of Times Square.
Being at the World Trade Center was emotionally harder than I thought it would be. I was almost expecting it to feel like a museum...but it was surprisingly difficult.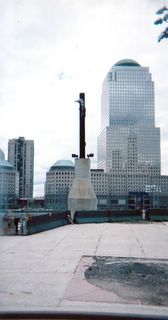 That's the iron cross that stands at Ground Zero. Why Matt took the picture from that angle, I'll never know. For a better view of it click
here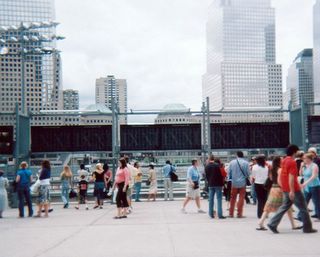 These boards contain all the names of the people lost in the September 11th attacks. There's also a timeline of the morning's events...which was probably the most emotional part of the experience for me.