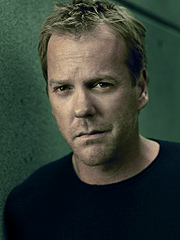 Friends, I dont know if there are any words in the English langauge, or even any of the Romance languages, that can fully capture the feeling I have when I watch
24
. It's unlike any show I've ever seen. In fact, it shouldn't even be compared to other television shows because it's clearly on another plateau. I make fun of the Star Wars nerds, but I'll be the first to admit I'm a hardcore 24 nerd....ALL THE WAY. The season finale last night was ridiculously awesome. Jack Bauer is food for my soul.
(Favorite line of the night: While Jack and Tony are in the CTU locker room, Bill Buchanan tells another agent that "Jack is about to be debriefed by Tony". Agents Gone Wild!)
On a non-24 note, my favorite song right now is "My Ballz" by D12 (surprise) off
The Longest Yard
soundtrack. Such a fun song.
Also, after seeing
Coldplay
on the otherwise abysmal season finale of SNL, is there any reason to believe that
their new album
will not rule the school?
X&Y
sounds like it will be phenomenal.
Tomorrow is going to be difficult...and I'll talk more about that later.