sports, sports, sports, sports, sports, sports, sports, sports, sports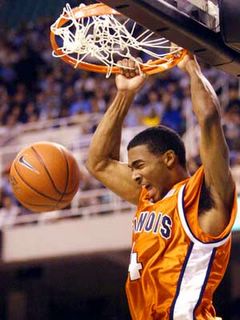 Luther Head is the leading scorer for the No. 1 team in the country
With all apologies to the girls who read this blog, and I know there are at least 3 of you, I have to talk about the local sports teams. And to celebrate, I'm going to use proper capitalization. It's time to bring some professionalism to this blog.
Chicago Bulls
Your Chicago Bulls are scorching hot. Since sitting at a record of 4-15 the Bulls have won 17 of their last 21 games. WHAT?!? This is the same team that started 0-9 right? RIGHT. Look at the difference a good coach can make. Scott Skiles has the Bulls believing they can win every game they play, and they
can
. It wasn't long ago that you would look at the Bulls' schedule and say to yourself 'ok, where are the winnable games?'. With this team, we're starting to expect victory every time. I can't say enough about what Skiles has done. I wish he would manage the Cubs, because Skiles is the Anti-Dusty. He's not interested in being your pal, he wants you to become a better player and to play as a team. Imagine that.
But besides the Skiles mojo, how are the Bulls doing this? Well, statistically their defense is as good as any team in the NBA. They lead the league in opponents FG% at .410 and they rank 5th in opponents PPG at 91.37. So the defense is key. And even though they're not an offensive juggernaut, they have a well balanced attack and don't depend too heavily on one scorer (though rookie Ben Gordon may be evolving into the go to guy). This team is very young, well coached, and still getting better. That is not good news for the rest of the NBA.

Illinois Fighting Illini
The undefeated No. 1 ranked team in the country keeps rolling. I've never been more excited for March Madness (is there a more fun event in all of sports?). I remember watching the 'Flying Illini' of 1989 and feeling the disappointment of them losing in the Final Four. I don't want to relive that. The Illini may not have the most talented players in the country, but they clearly have the best team. At 20-0 is it fair to be disappointed if they lose a game? Of course not. And if they have to lose, let's hope it comes before Madness begins. We havent seen a Champion since the Bulls won in '98. Right now, the Illini have to be considered the favorites to cut down the nets in St. Louis. But being the favorite isn't always the best thing...
Chicago Cubs
Well, our resident 'gladiator' is still on the roster and will likely poison the 2005 clubhouse. Cubs GM Jim Hendry has been looking for a way to dump Sammy Sosa all winter but has struggled to find any serious interest from other teams. It absolutely sucks that this piece of crap will likely make his signature sprint out to right field on Opening Day. For those that dont know, Sosa (who was not in the lineup) left Wrigley Field
during the game
on Fan Appreciation Day. The Cubs took a major step in trying to break ties with Sosa by going public with footage from security cameras that showed the slugger walking out. We are 19 days away from pitchers and catchers reporting and we still have this douche on our team. There's still time to trade him, but it needs to be done soon. Here's hoping that 2005 will be a Sammy-less season.