The Movies of the Millennium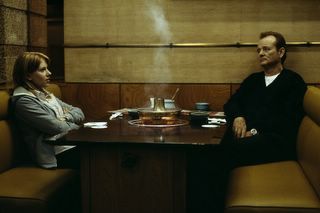 The best film of the millennium is 'Lost in Translation'
I love when magazines or TV networks or the AFI compile lists and unveil them to the public because people like me eat it up like chocolate ice cream. Recently I blogged how much I liked 'Sideways' (Paul Giamatti getting snubbed is a freakin JOKE). Well, that movie sorta forced me to make this list because I needed a better way to put it in perspective than saying 'it's the best movie I've seen this year'. So, here are the best films I've seen that have been released since Jan. 1, 2000. I like to call them..The Movies of the Millennium. I'll share a brief thought on each one. And I'm not interested in debating when the millennium began. I know there was no year zero, so technically it started 1.1.01, but whatever!
1. Lost In Translation.:2003
I know a lot of people who didn't like this movie because they claim there is no plot. But I think the message of this movie is so profound and it's done so exquisitely that I have to put it at number 1. If you ask me, this film is flawless.
2. Requiem For A Dream.:2000
This is probably the most powerful film I've ever seen. I think you'd be hard pressed to find a movie that can evoke as much emotion as this one. And for the most part, that emotion is depression.
Extremely
creative directing by Darren Aronofsky and fantastic performances by Ellen Burstyn and Marlon Wayans (of all people).
3. The Pianist.:2002
If you ask me, this was the best film of 2002. Roman Polanski's haunting story of Nazi-controlled Poland moves you through so many emotions, yet never loses its objectivity. Polanski and Adrien Brody both took home Oscars.
4. Sideways.:2004
I can't recommend this movie highly enough. It's likely that it will lose Best Picture to 'The Aviator' but I was amazed at how much I liked this film from the opening credits. See it.
5. Mystic River.:2003
A superbly directed and perfectly acted suspense thriller. There's so much weight, texture, and authenticity in this film that finds director Eastwood and actor Penn at the top of their games.
6. 25th Hour.:2002
Edward Norton's best performance since 'American History X' comes in Spike Lee's gritty tale about a drug dealer spending his last day as a free man. The film is not perfectly executed, but it's far more interesting than the vast majority of what passes for movies these days.
7. The Royal Tenenbaums.:2001
I thank God every day for Wes Anderson. Together with Owen Wilson, Anderson creates the smartest, most original comedies in Hollywood right now. 'Tenenbaums' is quite dark yet very humane, originating laughs out of shortcomings and insecurities.
8. Ocean's 11.:2001
I still remember walking out of the theatre after seeing this movie and saying 'that was the most entertained I've been at a movie in a long time'. It's just
fun
. The coolest, best looking people in the world are having a party and you're invited. I wish more movies were like this.
9. Traffic.:2000
This is the antithesis of the Soderbergh film I just mentioned. This movie feels very real but is artfully directed with beautiful use of color. One of the most creative works to come out of Hollywood in a decade.
10. Memento.:2000
A brilliant, dizzying script turned into a fascinating movie. Though somewhat flawed, this film is wickedly engaging and the puzzle is worthwhile. In an age of cookie cutter plots, 'Memento' breaks the mold.
So those are my 10. I know the nerds may wonder why 'The Lord of the Rings' trilogy got ignored. Well because I don't think they're the best movies of the millennium. Now I think there's a Dungeons and Dragons tournament somewhere, so why don't you go find it. Anyway, let me know where I'm wrong or where I'm right. And thanks for reading my blog.
p.s. If you want to see me very unhappy, try having a conversation with me if the Cubs sign Jeromy Burnitz. I'll Burnitz my trousers if they sign him.